Steel Prophet – neues Lyric Video zu "Life=Love=God Machine" – Presse Release
Die US amerikanische Heavy / Power-Metal-Legende Steel Prophet veröffentlicht neues Video zum im April über ROAR! Rock Of Angels Records veröffentlichten Album The God Machine
---
Hier findet ihr das Video:

Kurzinfo zur Band: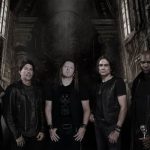 Steel Prophet wurde bereits 1983 gegründet und beschert uns seit 1986 immer wieder geniale Power Metal Alben. Fünf Jahre nach dem Erscheinen ihres letzten Longplayers Omniscient rekrutierte die Band den All-Star-Heavy-Metal-Sänger / Produzenten R.D. Liapakis von Mystic Prophecy / Devil's Train und seine einzigartigen Gesangsfähigkeiten, die perfekt zu den Songs auf das im April veröffentlichte Album The God Machine passen. Liapakis ist nicht nur der Mann hinter dem Mikrofon, da er neben Steve Kachinsky auch für das Songwriting und den Produktionsprozess des Albums verantwortlich ist.
---
Line Up:
R.D. Liapakis – Lead & Background Vocals (Mystic Prophecy, Devil's Train)
Steve Kachinsky – Lead & Rhythm Guitar, Keyboards
Jon Paget – Lead Guitar
Vince Dennis – Bass (Body Count, ex-World in Pain, ex-Dia de los Muertos, ex-Tourniquet, ex-Prong (live), ex-Obscene Gesture)
John 'JT' Tarascio – Drums
Links
Facebook Steel Prophet
Rock of Angels Records
Cooler Artikel? Diskutiere mit auf Facebook!