Crippled Black Phoenix veröffentlichen Gäste des kommenden Albums 'Ellengæst'
Crippled Black Phoenix veröffentlichen Gäste des kommenden Albums 'Ellengæst'
---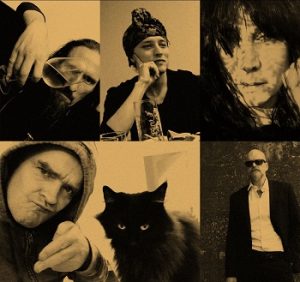 Es liest sich wie das Who is Who der Musikszene!
Original Pressetext:
CRIPPLED BLACK PHOENIX are now unveiling the names of their friends, guesting on the forthcoming new album 'Ellengæst', which is set for world wide release on October 9, 2020. New music and the pre-order kick off will be shared on July 28.
Mastermind Justin Greaves comments on the collaborations: "It's been such a pleasure to work with some very fine friends on this album, lending their amazing vocal talents to give life to some music. It was important to us to do something meaningful, only inviting friends who we or I have connection with."
Full statement can be found HIER
Vincent Cavanagh (ANATHEMA)
"It was a pleasure to work with a band who's music I've enjoyed for years. Plus anyone who allows cats on their band photos gets my vote." -Vincent, guesting on 'House Of Fools' and 'Lost'
Jonathan Hulten (TRIBULATION)
"The first time I heard "The Invisible Past" I was blown away, it had such a transcendent and hypnotically beautiful atmosphere. I did my best to make this majestic song justice and I am humbled to have been given such a task. Thank you, Justin and CBP, for letting me be part of the Ellengaest collaboration!" -Jonathan, guesting on 'The Invisible Past'
Kristian Espedal (GAAHLS WYRD)
Guesting on 'In The Night'
Ryan Patterson
"It has been an honor and a joy to be part of the CBP extended family, first as a touring bass player and tourmate and now as the singer of "Cry Of Love" on Ellengaest. In addition to a strong connection as music fanatics, Justin, Belinda and I bonded over our love of animals and lives as ethical vegans, as well as our love of our cats – to whom "Cry Of Love" and Ellengaest is dedicated." -Ryan, guesting on 'Cry of Love'
Suzie Stapleton
"When Justin invited me up to Lincolnshire to record I didn't hesitate to jump on the train. I've been a fan of CBP since we worked together on The Jeffrey Lee Pierce Sessions Project but we'd never actually met. Chapel Studios is a magical space and this collaboration was a real pleasure to be a part of – some kind of sorcery was at hand during these sessions." -Suzie, guesting vocals on 'Cry of Love' and guitar on 'She's in Parties'
---