SEETHER veröffentlichen Song "Bruised and Bloodied" aus kommendem Album "Si Vis Pacem, Para Bellum"
SEETHER veröffentlichen Song "Bruised and Bloodied" aus kommendem Album "Si Vis Pacem, Para Bellum"
---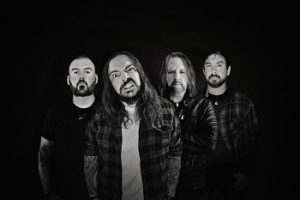 Das Album wird am 28.08.20 via Fantasy Records releast. Vorab gibt es den Song Dangerous als Appetizer HIER.
Drawing on influences including the dark and raw honesty of grunge's epic guitar attack and the South African underground punk and metal that Morgan (and bandmate Dale Stewart) grew up on, SEETHER's sonic brew is unmistakable and timeless.
The album's lead single, "Dangerous" is another standout that has had an impressive impact at rock radio since being released June 24th. Already Top 10 at Active Rock radio in just three weeks, "Dangerous" has been the #1 most increased track at the format every week since its release.
Revolver called "Dangerous" a "biting, anthemic lead single" while Loudwire said, "SEETHER take a step back from the battering riffs and lean into an alt-metal direction in this catchy albeit despondent anthem."
Si Vis Pacem, Para Bellum is SEETHER's eighth studio album and was produced by Morgan and engineered and mixed by Matt Hyde (Deftones, AFI) in Nashville from December 2019 through January 2020. The album features 13 new tracks, a primal mix of euphoria and misery, undoubtedly some of the strongest material of SEETHER's illustrious career.
The band is joined on the album by newest member, Corey Lowery (ex-guitarist/vocalist for Saint Ansonia and Stuck Mojo) Morgan's friend of 16 years, who also assistant-engineered the album. "Corey has a lot of experience and is an inspiring guitarist as well; he's the older brother I've always wanted," Morgan says. SEETHER's rock-solid rhythm section is bassist and founding member Dale Stewart, and drummer John Humphrey (who joined in 2003.)
Si Vis Pacem, Para Bellum will be available in CD, vinyl and digital download formats.
Pre-order it: HIER
For special offers and exclusive merchandise, visit SEETHER's online store https://seether.limitedrun.com
---
Textquelle: Pressetext